During meal times, the last thing you want to do is chase your toddler while balancing a spoonful of food in one hand. This recipe for disaster is meant more for a Tom and Jerry cartoon, not your living room. The baby high chair is a boon for many parents who are convinced their kids to have inbuilt Duracell batteries. But even if you're blessed with a perfectly well-behaved child, it's a good idea to invest in a baby feeding chair.
Benefits of a baby high chair
Most babies are ready for the high chair between 4 to 6 months, once they can sit with support and are ready to eat solid food. Ideally, you should be seated on the floor in the lotus position while eating. But try telling your toddlers that! Your little baby will be up and running before the spoon touches the plate. Also, if you plan on your child to join the family at the dining table, you should start the training now.
The feeding chair has various benefits. It helps to:
Separate playtime from eating time
Encourage independent feeding
Easy to pick up food from the plate which develops fine motor skills
Features to look for in a baby high chair
1. Multi-function
Some brands offer chairs that can be adjusted as the child grows, or converted into a desk and chair.
2. Cushioned seating
For comfortable dining. Squirming toddlers aren't motivated to eat all their veggies.
3. Adjustable footrest
Adjustable footrest enables to keep your child's feet firmly grounded as dangling legs aren't good for blood circulation and posture.
4. Easy to clean
Babies are messy. Look for removable seat covers that can be popped in the washing machine.
5. Easy to Stow
If space deprived, a feeding chair with a compact, folding feature is your best friend.
6. Safety
A five-point harness (three for older kids) will keep your child from trying to escape. Look for chairs with International safety certification to ensure a safe mealtime on the high chair.
Different types of baby high chairs
Watch this video to understand different types of high chairs available in the market and features to look for when buying a highchair:
Top 5 recommended baby high chairs
Choose the high chair that suits your needs. We have picked up 5 high chairs based on their features and popularity:
If you want your children to graduate straight from their first high chair to the dining table chair, this is the chair for you.
Features:
Grows with child: 7 height adjustment levels; useful from when baby can sit with support till 5 years of age (or baby weighs up to 20 kg)
Comfortable seating: 3 recline modes, adjustable footrest, sufficient backseat padding
Safety features: Five-point harness, EN14988 safety certified
Ease of use: Removable cushion, easy to wash/clean
Easy storage: Easy to fold; wheels with in-built locks for easy moving/stowing
Storage space under the chair: useful to store toys or feeding utensils
Double food tray: Single hand removable food tray with 3 adjustable levels; detachable upper tray for easy cleaning
Cons:
Not suitable for carrying outside the home
Belts are less easy to remove for cleaning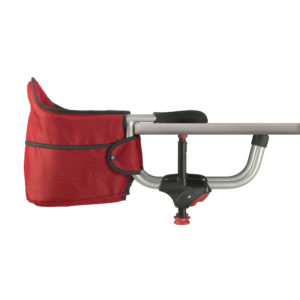 In the classic animated movie, 'Ratatouille', Remy, the rat runs aimlessly through the streets of Paris while cars and pedestrians narrowly avoid hitting him. That was my kid in a restaurant, running around while dodging waiters carrying big trays of food. Until I got the Chicco caddy. This chair is also perfect for the family who travels a lot.
Features:
Portable: Lightweight yet sturdy; compact and easy to fold & carry
Easy to install: Easy to attach to a thin, flat surface like a dining table; grips come in a rubber casing ensuring no dents on the attaching dinner table
Enables a child to eat from a plate directly off the table
Suitable if space constraints restrict using a full-sized high chair  
Easy to wash or wipe
Cons:
No footrest
No adjustments for height or recline angles
Uses only a seat belt, no 5 or 3 point harness
When your baby goes into toddler mode, this 2-in-1 system follows suit, seamlessly making the transition to a booster seat from a baby high chair.
Features:
3-position reclining seat for comfortable feeding
Booster cum high chair: Easy to remove the seat for the highchair to booster conversion
Machine washable covers and easy to clean seat
The one-hand lift tray to easily get in out from the seat
Chair leg with in-built storage: store leg parts when converting to a booster seat
Convenient to carry booster seat outside the home
Cons:
No tray insert that can be removed for cleaning
The seat might be narrow for larger babies
High chair mode, not compact/foldable for stowing
Non- adjustable footrest
This versatile high chair can convert into a high chair, low chair, booster seat or booster seat attached to a regular chair.
Features:
Multi-use: Removable sturdy metal legs to convert from high chair to a booster seat
5-point safety harness to strap your baby
Ease of use: Removable food tray with 3 adjustable positions; easy to clean/wipe the chair
Foldable backrest for convenient storage
Adjustable footrest
Convenient to carry booster seat outside the home
Cons:
Slightly cumbersome conversion to a booster seat
No cushioned seating
Truly value for money baby high chair can convert from a high chair, to study table to low chair/booster chair and also a booster seat attached to a regular chair.
Features:
Safety: 5-point safety harness, EN14988 safety certified
Multi-use: Easily converts to a booster seat, study table, high chair, low chair, or booster chair
Ease of use: Detachable food tray; easy to clean/wipe; removable and washable cushions
Convenient to carry booster seat outside the home
Cons:
Cushioning is minimal
Non-folding chair so requires more storage space in highchair mode
No adjustable recline positions
No footrest
Conclusion
When your children eat in a high chair, you're helping them form lifelong habits that will eventually see a well-behaved diner at the grown-up table. A good baby or toddler high chair will help you get there.